When To See Your Dentist About TMD (Temporomandibular Joint Disorder)
Posted by Fay Hu on May 31 2023, 02:53 PM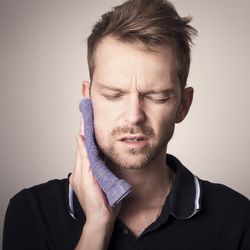 Temporomandibular joint disorder is a condition in which the joint(s) on the either or both sides of the jaw that allow you to open and close your mouth become impaired. When this occurs, you may feel jaw pain or discomfort, popping or clicking sensations, and even experience locking of your jaw. Sometimes called TMJ, which refers to the joint(s), TMD can range from mild to severe.
TMD can be caused by one or several factors, including arthritis, malocclusion, bruxism (clenching and grinding), injury, or degenerative wear and tear. It is important to see your dentist right away if you feel there is a problem with your jaw, because, untreated, TMD can become progressively worse. Over time, the joint(s) can become permanently damaged, causing significant pain, tooth damage, and more.
Because TMD can be caused by a range of factors, when you are seen in our office, we will provide a thorough, comprehensive examination. Our TMJ exam includes a detailed health history, intra- and extra-oral clinical exam, radiographs, such as a CBCT, and other tests, as needed.
Depending on Dr. Fay's findings and the etiology of your condition, we will create a treatment plan specific to your needs. Schedule with us today so that we may help to find the source of your TMD and establish a treatment plan that will benefit you and ensure the health of your temporomandibular joint(s).
To learn more, make an appointment with Dr. Fay Hu, DMD. At Fay Hu DMD General Dentistry, located at 800 West Morse Blvd, Suite 3B, Winter Park, FL 32789, we serve patients with the best quality treatment. You can schedule an appointment by calling 407-647-3223.